Skip to Content
Infusion Center in Houston, TX
Infusion Suite
Neurology Consultants of Houston, P.A. has a state-of-the-art infusion suite in Houston that provides an ideal environment for the treatment of our patient's conditions. Our suite is furnished with 12 reclining chairs, tablets, large screen TVs, audio equipment, and even a migraine quiet room for our patients' ultimate comfort.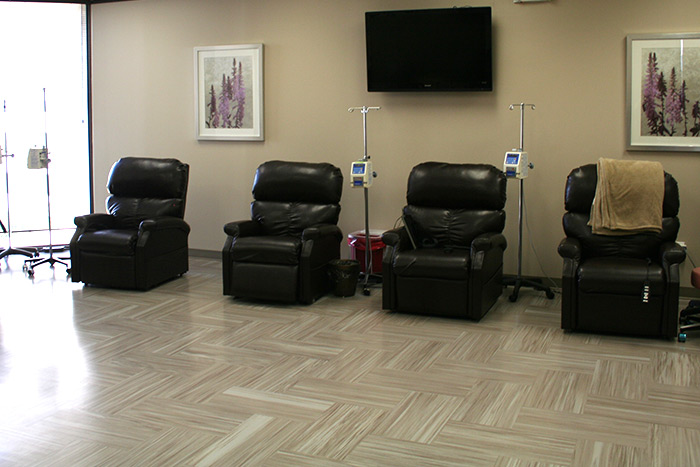 Infusion-Type Therapies
Specialized intravenous (IV) and other infusion-type therapies can be used to treat Optic Neuritis, Multiple Sclerosis, Devic's disease, Myasthenia Gravis, and several nerve disorders such as Guillain-Barré Syndrome and Chronic Inflammatory Demyelinating Polyneuropathy (CIDP). In addition, headache sufferers can have specific medication protocols tailored to their individual symptoms.
Neurology Consultants of Houston's staff is highly skilled, infusion-trained, and are knowledgeable in the conditions we treat. Our nurses specialize in teaching, administering, and providing follow-up support to the patients receiving these therapies. Our staff has special training and the infusion suite is a recognized site for Tysabri administration. A neurologist is immediately available to answer any questions and to monitor the patient's therapy.
The state-of-the-art Houston infusion suite provides a comfortable and calm environment for infusion and injection of medications. The room is equipped with 12 comfortable recliners. A restroom with handicap accessibility is located within the space. Televisions and magazines are also available. All efforts will be made to be flexible in scheduling patients' appointments. Reimbursement for parking is also available.